Muon g-2 ring celebration
July 26, 2013

5:30PM

to

7:00PM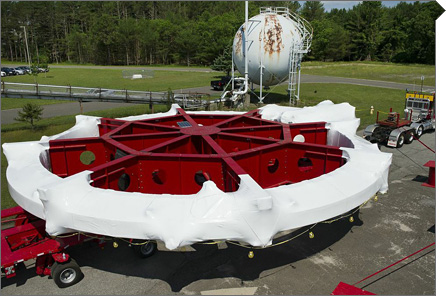 The Muon g-2 team at Fermilab is in the midst of transporting a 50-foot-wide electromagnet from Long Island to the Chicago suburbs in one piece. The move began on June 22 at Brookhaven National Laboratory, and will conclude the week of July 22 at Fermilab.
Fermilab is inviting everyone in a final celebration at Fermilab on Friday, July 26 to welcome the ring home. Starting at 5:30 p.m. at Fermilab, families can have fun with hands-on exhibits in Wilson Hall, eat in the cafeteria and talk with scientists while waiting for the ring to make its way across the Fermilab site.
When the ring arrives at Wilson Hall, everyone will go outside to greet it, and get a group photo with it before it rolls to its final destination.
If you have any questions, please call the Fermilab Office of Communication at 630-840-3351 or email fermilab@fnal.gov.